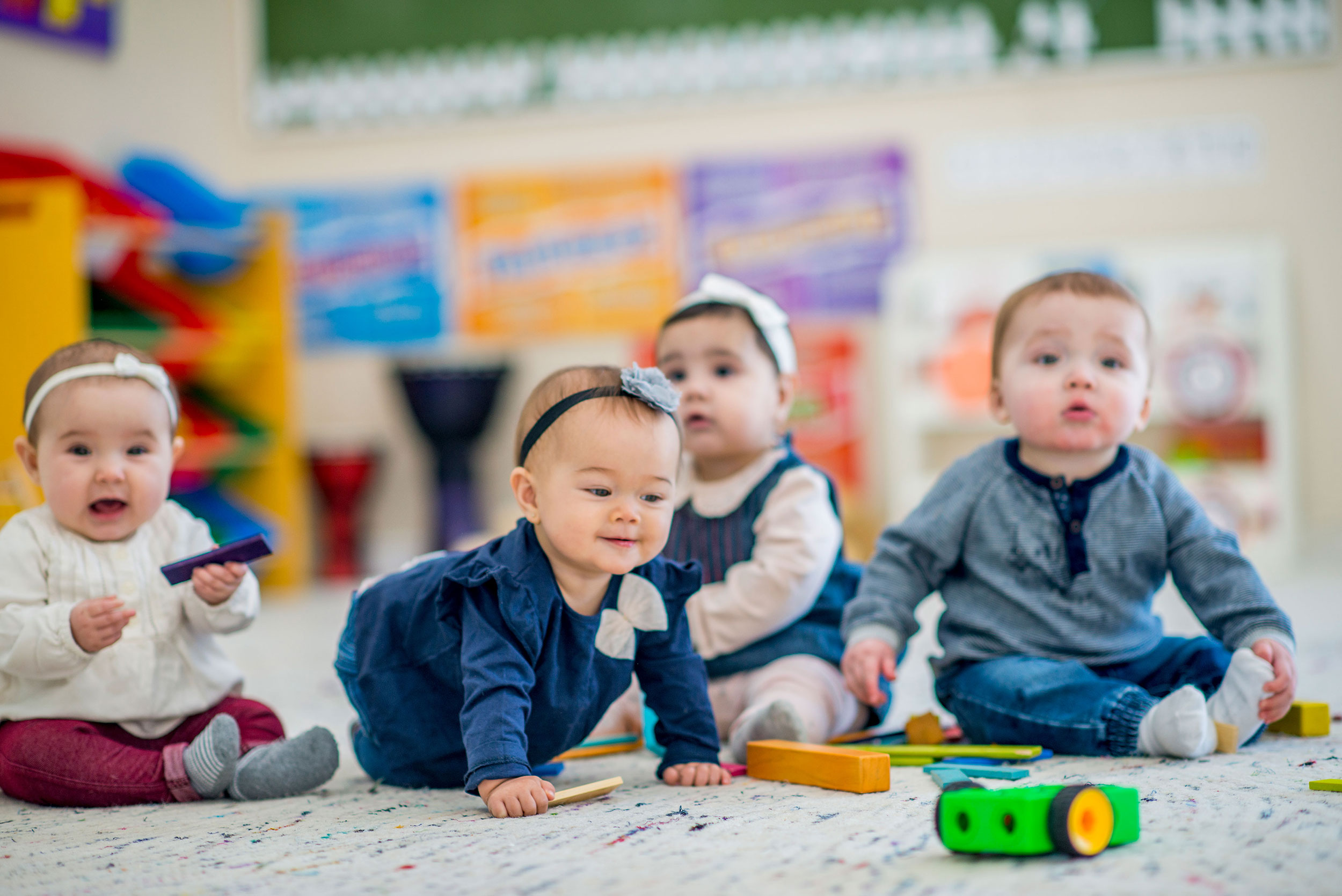 CLASS Will Replace PQA
As part of revisions to the Great Start to Quality rating process, the Classroom Assessment Scoring System or CLASS, will replace the Program Quality Assessment (PQA) tools for on-site observations. During the pilot in April 2021, programs volunteered to have a CLASS observation to gather data. This data will inform decisions about how CLASS scores will be used in determining ratings. The Great Start to Quality Assessment Team will also have the opportunity to use the tool in various child care program types to help inform those decisions.
Why CLASS?
CLASS is a nationally recognized tool for measuring adult-child interactions. Children in classrooms with higher CLASS scores have been proven to have better social-emotional, cognitive, and academic outcomes. CLASS is used across the country in Head Start programs, Quality Rating and Improvement Systems like Great Start to Quality, and in all child care program types serving a variety of age groups. Learn more about why CLASS is a great tool for program quality improvement.
When HighScope revised the Preschool PQA to the PQA-R, it was determined by independent consultants, that scoring thresholds could not be determined in order to support the calculation of ratings. Given that Michigan is the only state currently using the PQA tools as part of Quality Rating and Improvement Systems (QRIS), and aligning with national trends and research, the shift to CLASS. As other revisions are made to Great Start to Quality, CLASS will better support quality improvement with the specific goal of improving child outcomes. CLASS measures adult-child interactions effectively in any program type using any curriculum.
Similarities and Differences
Teachstone has crosswalked both the Pre-K tool and Infant and Toddler tools to the PQA tools to highlight similarities and difference. These crosswalks are available on Teachstone's website.
HighScope Preschool Program Quality Assessment (PQA) and Pre-K CLASS
HighScope Infant-Toddler Program Quality Assessment (PQA) and Infant/Toddler CLASS
Threshold Scores
Threshold scores must be achieved, for each group or classroom observed, for the program to reach the highest quality level; Demonstrating Quality. Threshold scores for each tool are noted in the table.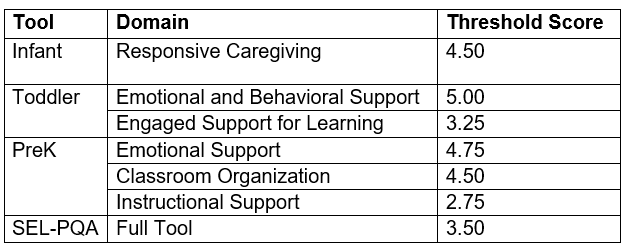 Supporting Providers with CLASS Training
The Early Childhood Investment Corporation (ECIC) implements the rating process for Great Start to Quality and is committed to providing information and training for providers prior to the shift to CLASS from the Program Quality Assessment (PQA) taking place. Beginning in summer 2021, informational sessions will be provided through MiRegistry.
Resource Center staff will also be trained and ready to support providers as they prepare to use CLASS in the future.
GSQ and CLASS Introductory Overview
The most recent opportunity for providers and partners to learn more about CLASS and GSQ was in January 2022. Many of the questions posed during the first sessions held in 2021 were answered and more details were provided on the on-site assessment process using CLASS. You can review the recording here, without training credit.
Our first two introductory overview trainings on GSQ and CLASS were conducted in August and September 2021. If you missed those opportunities you can review the recording here, without training credit.
Please reach out to assessment@ecic4kids.org with any questions.
More to Come
The shift to CLASS is tentatively scheduled to take place in February 2023, along with other improvements that are currently underway.  Communication, information, and updates will be shared over the coming months as decisions are made by the Michigan Department of Education-Office of Great Start based on provider and stakeholder feedback.  Check this webpage for updates along with our Facebook page and sign up for our listserv.