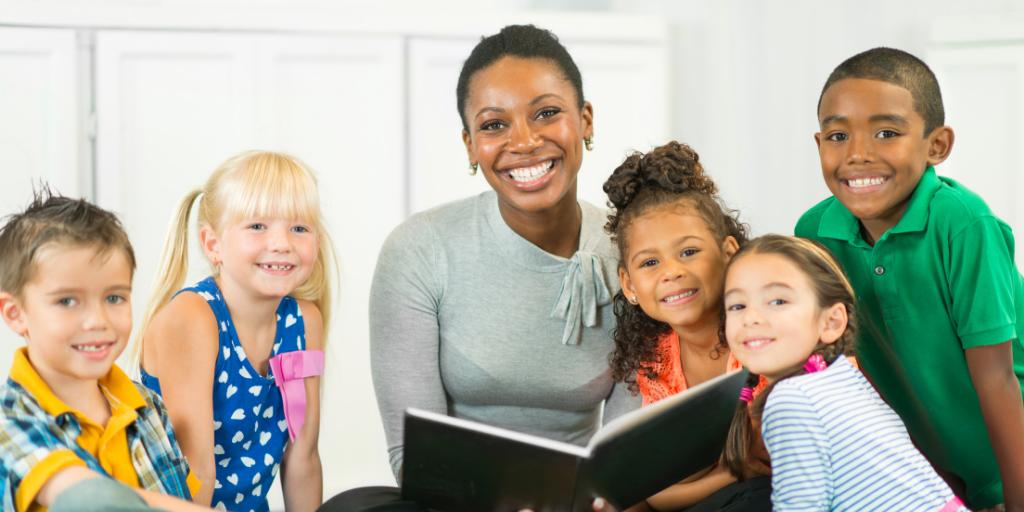 Support During
COVID-19
During the COVID-19 pandemic, Great Start to Quality continues to support programs and providers to maintain and earn new ratings. Accommodations are being made to align with child care licensing guidelines, and public health guidance, as validations and on-site assessments take place. This page will be updated as information changes. Please check back often to learn how Great Start to Quality is making adjustments to better support providers during this challenging time.
Rating Extensions
During the consecutive stay-at-home orders, Great Start to Quality star rating expiration dates were extended for a total of 15 weeks. This accommodation did not stop the work of Great Start to Quality; many programs have continued to become rated over the course of the last several months. See the section titled The Numbers for more details.
Validation
Many adjustments have been made to the validation process to work with programs to determine their specific circumstances and the best way to move forward. These adjustments have allowed many programs to complete the process, even those who were closed.
The most impactful adjustment that has been made supports the annual professional development by removing 2 hours of required professional development, for each month of the stay-at-home order. For example, if the SAS was submitted in May 2020 staff will only need 20 hours of professional development within the last 18 months, not the full 24 hours. This process will continue until January 1, 2022.
Questions about accommodations can be emailed to Validation@ecic4kids.org.
On-Site Assessment
Many adjustments have been made to the on-site assessment process to better support the program's needs and maintain safety during observations since the COIVD-19 pandemic began. Throughout the process our top priority has been to ensure the children and staff we visit in child care programs across the state, and our Assessors, stay safe and limit the potential spread of COVID-19. As such, we continue to follow guidance from public health officials which includes but is not limited to the following procedures.
Assessors will sanitize all materials brought into the program, wash hands or use hand sanitizer frequently, and sit or stand away from children and staff as much as possible.
Wearing a mask is optional for Assessors, whether they are vaccinated or not. As a visitor in your program, the Assessor is happy to follow the policies you have in place related to COVID-19, such as wearing a mask or completing a health screening.
Assessors who have been in close contact with someone who has COVID-19 are not required to quarantine if they have been fully vaccinated and are showing no symptoms.
Assessors will ask additional questions about what has changed in the program or routine and will take this into account while scoring rows in the Program Quality Assessment (PQA

These scoring accommodations will be in effect until September 30, 2021. Beginning on October 1, 2021, all programs will need to meet the rows in the PQA in order to earn credit as scoring accommodations will no longer be made unless stricter guidance is issued prior to that time.
Questions about the process can be emailed to assessment@ecic4kids.org.
The Numbers
While many programs and providers were closed during the spring and summer of 2020 due to the pandemic, that did not stop them from successfully demonstrating quality practices desite all of the changes they made in their program. The numbers from March 15, 2020 through February 28, 2021 shows just how committed programs in Michigan are to providing quality care for the children and families they serve.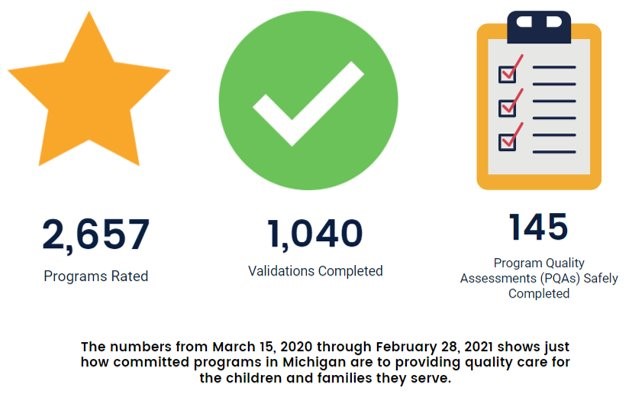 More Resources
Looking for more resources related to the COVID-19 pandemic to support your program?
Find more information specifically for child care providers.